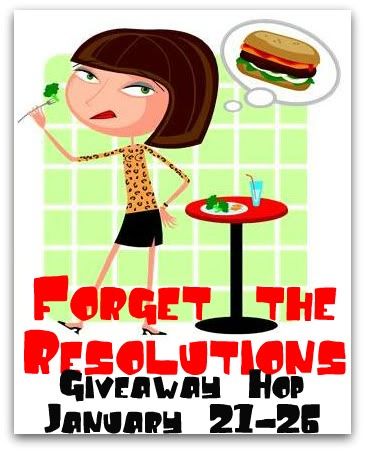 Forget The Resolutions Giveaway Hop
Hosted by
Planet Weidknecht
and
Going Crazy!!Wanna Go??
It's been three weeks since you've made all those resolutions.It's said that it takes 21 days to make a new habit, so you've probably already broken your New Year's Resolutions. I say - FORGET THE RESOLUTIONS! Let's have a giveaway hop instead!
The Forget The Resolutions Giveaway Hop runs from January 21 @ 12:01 a.m. EST to January 26 @ 11:59 p.m. EST. Each blogger is hosting their own giveaway of at least $20.00. After you enter my giveaway, be sure to visit the other blogs and enter theirs too!
Sweaty Bands In Bald Colors
Sweaty Bands were born in a place of love for movement, music, health. Sweaty Bands were a dream of a creative woman who absolutely adored moving with music. And she wanted more of it, i.e., music.
What did she do? She invented
Sweaty Bands
to supplement her passion for new music to energize and motivate her fitness class every day of her life.
Donna Who Invented Sweaty Bands
This passionate woman is Donna, a mom of three quickly moving kids. And her product, Sweaty Bands, has take off with a speed of greased lightening.
You can see tennis stars, beach volleyball queens, everyday gals like me wearing her bands.
So, what is so different, you'll ask about Sweaty Bands that others are so crazily in love with them?
Soft & "sticky" fabric on the inside keeps Sweaty Band from slipping off
I'll tell you that
Number One
secret is that those bands stay where they're supposed to stay – on your head, keeping all that mane of hair away from face.
Number Two
, Sweaty Bands are insanely addictive due to their fancy colors, bald branding, and multitude of usage.
Number Three
, you ought to try Sweaty Bands just once, and you'll be enamored with the convenience and bright colors they offer for your daily routines.
In one short breath, Celebrate Woman wears Sweaty Bands every day of her life to feel inspired and to feel confident.
Win Sweaty Bands!
a Rafflecopter giveaway
Fabulous bloggers hosting amazing giveaways:
Disclosure: Celebrate Woman received products from the Sweaty Bands company to facilitate this review. The prize will be shipped to the winner by the sponsor. My opinions are my own and were not influenced by the sponsor. Celebrate Woman Today promotes only healthy and life-enhancing products.