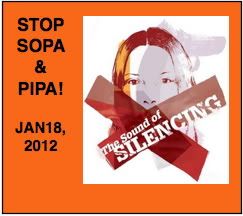 Insert Image Credit to Spicyipindia.blogspot.com
What is this buzz, you'll ask, about
PIPA (Protect Intellectual Property Act)
and
SOPA (Stop Online Piracy Act)
? Oh, you haven't heard about it? You'd better educate yourself and start acting against it to protect our real free right to share and create content online as we please.
Please learn about the propsed Acts of PIPA and SOPA and take your stand together with Celebrate Woman Today blog and thousands of Women-led bloggers TODAY!
Say NO – Clearly and Loudly – to PIPA and SOPA!
Yes, you still need to read what they propose in those acts!
I read some comments that say, "Hey, it's a win-win, as no pirating will be allowed of the intellectual property." Hello, if you really read – and read between the lines as well! – these acts are about censorship. They're about silencing those who are targeted under the "win-win" cloaka of the sister Acts.
Join Celebrate Woman Today in Silencing our Voices online on January 18, 2012, against these two anti-freedom Acts.
No posts, no online activity on January 18th. We must be heard. All of us.
Together we do stand strongly!
Celebrate Our Standing Together – Against PIPA and SOPA – Today!