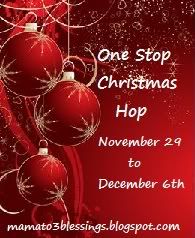 My amazing mom-blogger to 4 blessings (www.mamato3blessings.com) is leading all of us in the One Stop Christmas Hop Event that will last for one week from November 29 through December 6, 2011.
All who join this mezmerisingly fun blog hop, will enjoy a lot of gifts (at least $25 worth or more!) You can start your Christmas shopping with us, by hopping from blog to blog and picking the prizes you would like for yourself and others.
If you wish to be part of this jolly time, please hop to
MamaTo3Blessings
to sign for it with linky.
It's simple. It's free. It's filled with holiday spirit.
See ya later.
Celebrate An Opportunity Today!